WHAT DOES DRAUGHT BEER MEAN?
Pouring a draught beer is an art, and so needs a touch of mastery. It is this touch which Mahou has been certifying for two years now through this initiative, acknowledging the efforts of bars that serve their beers with true mastery.
A Master Beer can be seen in the smooth, compact head, which serves as a lid, retaining the aroma and avoiding contact with the air. That way the beer retains its unmistakable taste right to the last drop.
Learn to serve a draught beer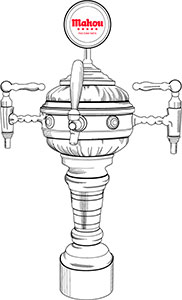 YOU WANT TO KNOW MORE ABOUT MAHOU?
Since you already know everything about our perfect draught beer it's a good timing to learn more about our brand. Find out about our Five Star Taste and the taps that marked our history.