The shining star of "The Red-and-Whites" youth team and one of the key players that holds the Atlético de Madrid team together, Jorge Resurrección Merodio, or in football jargon, Koke, perfectly embodies the Five Star player philosophy, and demonstrates match after match to be one of the select few players to have that special flavour which makes them unique and irreplaceable on the turf.
Koke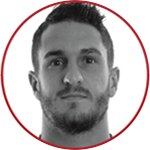 Jorge Resurrección Merodio
Atlético de Madrid
---


2008
Once upon a time,
at 16 years old...

He discovers what it means to defend the Atlético de Madrid crest, playing his first game with the subsidiary.

Who hasn't dreamt of debuting against a rival like Barcelona? Koke did it.
2009
It all started
at Camp Nou

With the Vicente Calderón Stadium as the stage and the Sevilla FC's goal post as the objective, Koke scores his first goal.

First came the Europa League against Athletic Bilbao. Later, he would be the one to lift up the European Super Cup following a win against Chelsea.

2012
King of the Champions League
twice
2013
Spain is
"red-and-white"
He conquers the King's Cup against Real Madrid at the Santiago Bernabéu Stadium.

Under-21 Selection
---


A European Championship as a prelude to the national team
He wins the European Championship in Israel with the under-21 football team.

First player to receive the trophy as a Five Star Player of Atlético de Madrid.

2014
The Double and Koke,
and vice versa
Snatching the win
from both Barcelona in
La Liga and then from Real Madrid in the Spanish Super Cup, Koke once again lifts up two trophies in one year.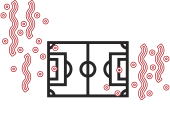 Spain national football team
---


Vicente del Bosque and the World Cup knock on his door.
He debuts with the National Team in a friendly win against Ecuador in August of 2013. Months later, he would be included among the 23 chosen players who would attend the Brazil event in 2014.


The completed season was enough to get the LFP to include him in the "La Liga Team of the Season".
On January 31st, 2015, in a game against Eibar, he plays his 200th match wearing the red and white jersey.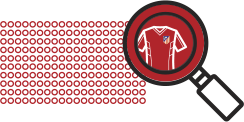 2015
200 times
as a Red-and-White

He participates in the brand's advertising campaign.
On February 14th, 2016, after playing the match against Getafe, he becomes one of fifty players to reach 170 La Liga matches with Atlético de Madrid.