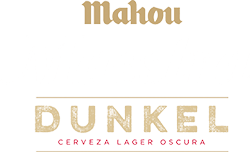 By Master Brewers
for Master Brewers
A dark lager, worthy of the great masters.
Our Master Brewers have extended the Maestra range with this recipe from 1890, inspired by the classic German style, Munich Dunkel.
Tasting Notes
Tasting Notes
Alcohol 6.1º |25 IBUs|Serving temperature 6º-8ºC
APPEARANCE
---

Very dark colour with intense body.

AROMA
---
The nose leans towards toasted notes, coffee and chocolate with a slightly smoky touch.

FLAVOUR
---
On the palate, it has an intense body with soft bitterness, complemented with more complex notes of raisins. Silky texture.
X
NUTRITIONAL INFORMATION
Maestra Dunkel
Fats
– Of which Saturated
---
Carbohydrates
– Of which Sugars
---

Move the mouse over the ingredients to learn more
After a triple decoction process, in which its three dark malts (Munich, Color and Pilsen) are cooked in several different phases and recipients, the combination of the three types of malt is ready for the start of the brewing process. This is how our Master Brewers manage to make it slightly smoky with a soft bitterness.
The combination of bitter and semi-aromatic hops varieties of European origin are responsible for the moderate bitterness of the Maestra Dunkel.
The yeast is in charge of transforming the sugars contained in the mix into alcohol and carbon dioxide during fermentation.
Each yeast produces a different type of fermentation, and is therefore used for different beers. Our delicate handling of this strain keeps its purity intact and provides the unmistakable flavour of the Maestra Dunkel.
The Maestra Dunkel's identity is defined by the properties of the water, whose composition and mineralisation are perfect for providing its signature freshness and smoothness.
Pairings
GRILLED MEATS
---
If you're looking for a casual pairing, serve your Maestra Dunkel with grilled meats, as their caramelised flavours blend perfectly on the palate.
BURGERS & BBQ
---
You can also serve it with hamburgers or ribs with barbecue sauce, to bring out its smoky flavour.
DESSERTS AND SWEETS
---
If you prefer, you can wait for dessert and enjoy something sweet with dark chocolate and strawberries, accompanied by our toasted lager.
The Glass
The Glass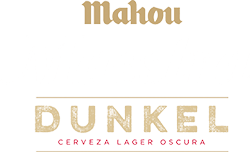 The main aromas in the Maestra Dunkel come from the hops and the combination of its three toasted malts.
The glass of the bottle allows one to capture the opacity and dark colour of this beer, putting it proudly on display.
The mouth of the bottle is wide, so that you can appreciate the toasted aroma, and invites you to enjoy the Maestra Dunkel by savouring each sip.
This bottle perfectly conveys the excellence of the toasted flavour and soft bitterness in the Maestra Dunkel.